This 2400 sq ft space belongs to a young professional. His brief was to create a young vibrant space with loads of colour without it looking like a kid's nursery. Also with hectic work schedules, he wanted a gym within the house. One of the other important factors we were told to consider was to keep the personal space away from the formal areas. One of the major reasons we got the project is because we curate spaces and that's why each of our projects has a unique identity. We don't repeat concepts.

It is located in a quiet residential lane in South Delhi called Green Park. This is a corner plot with a 3 side view and this apartment is on the second floor. There is plenty of natural light that bathes the space. My general philosophy is that spaces need to be curated. Art plays a major role in enhancing the look of a space. In fact, art plays a major role in every space I design. In this particular project, it was a mix of things. Some of the wall art is sourced by our design studio as we work with various artists. Some of it is clients own photography from their travels. Also during their travels, they were constantly in touch with me and would send me photos of interesting things they found. The sculptures in the dining room are by Shailesh Ojha.

Each space is a combination of different colours and materials with a strong focus on details. The idea was to give each room its own identity. The interior of each space is equipped with modern furniture, some of the focal pieces have been designed and manufactured by Sanjyt Syngh Design Studio. Lighting from various brands exudes contemporary glamour. Natural light bathes the space through floor to ceiling glazing, acting as an asset in which subtle features and surfaces anchor themselves. Art and colour have played a major role in defining this space. Each element has taken its place in this space and added to a look that is luxurious and sophisticated.
T.V. Room
The highlight of this room is the yellow cabinet, custom design by Sanjyt Syngh, Rug by Jaipur Rugs, Artwork sourced by Sanjyt Syngh, soft furnishings by Sanjyt Syngh


Living area
We wanted to bring young fashion colours into the space. The couple work in a corporate environment and they wanted a lively space that evokes individuality.
Sofas by Sanjyt Syngh, Cabinetry by Sanjyt Syngh, Rug from Lightbox, Chandelier from Angel Ventures, Table Lamp from Lightbox, Moooi Accessories from Lightbox, Soft Furnishings by Sanjyt Syngh.


Dining area
The idea was to create a pristine space that evokes a sense of calm.
Dining Table by Sanjyt Syngh, Dining Chairs imported from Europe, Art Sculptures by Shailesh Ojha, Photo on the wall is clicked by the client on one of the travels to South Asia.
Gym
Customised by the trainer
Guest bedroom
Soft Furnishings by Sanjyt Syngh, Art sourced by Sanjyt Syngh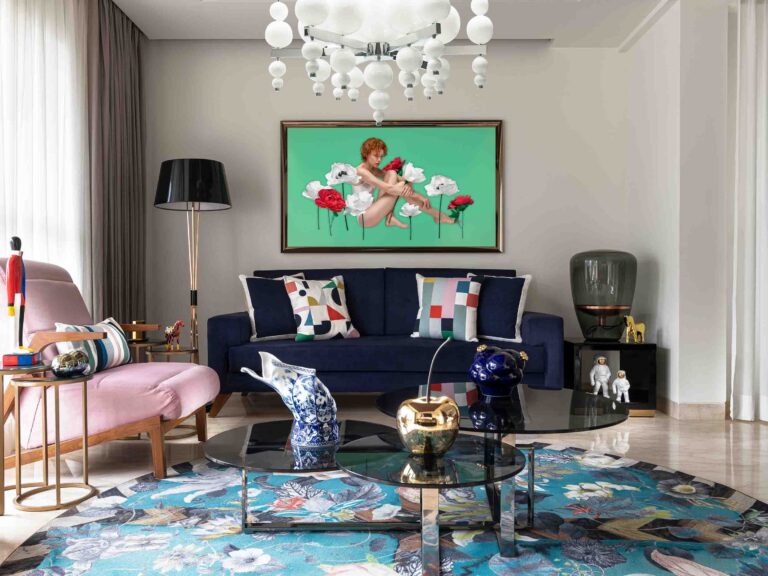 Master bedroom
We wanted to use a very unconventional palette and yet keep it very serene.
The bed linen is customised by Sanjyt Syngh. The pink cabinet is also a bespoke piece by Sanjyt Syngh. Artwork sourced by Sanjyt Syngh. Drapery by Sanjyt Syngh.
Every space is a mix of layers. Each layer plays an important role. The flooring is Botticino Classic while the ceilings are a mix of POP and wooden panelling. The furniture is either designed by Sanjyt Syngh or sourced by Sanjyt Syngh from various brands. The lighting is from Angel Ventures and Lightbox. Since we wanted the art to be the highlight we kept the walls very basic. The rugs are from Lightbox and Jaipur Rugs.
Fact File:
The Home: Green Park Residence
Location: Green Park
Rooms: Living Room, Dining Room, 2 bedrooms, TV Room, Gym, Kitchen, 4 toilets
Decor Type: Eclectic mixed with a bit of Parisian Chic
Photography: Deepak Agarwal