Firm/Studio Name
Kalathmika Architectural Studio
How did you come up with the name of your studio?
Being an Architect & Designer for me, every space has a soul/vibe expressed through art & technology to be used functionally. Therefore " KALATHMIKA " – meaning 'Soul Of Art'. Also I'm a religious person so " KALATHMIKA " is The Goddess of Art (another name of Goddess Durga).
Hence, the name comes – " Kalathmika Architectural Studio "
What determined your passion for design? Tell us about the moment when you decided this is the way to go.
I am an Artist myself, since childhood and growing with time I've always seen my mom creating new things. During my teenage time, I was intrigued by creating spaces with whatever resources I had, and with time this temptation just keeps on evolving toward different built forms, materials, and textures. And here I'm still fascinated by everything about design as an Architect & designer.
What kind of projects were you doing when you first started as a designer?
I started with small residential projects with their planning, renovation, reconstruction & Interiors. I have also worked as a 3d visualizer on urban development projects in Odisha. At present, I have been working as a Founder & Principal Architect at "Kalathmika Architectural Studio".
What field of design are you most interested in?
I feel delighted with everything which is evolving in design, as I would love to experiment with every possible field in architecture. In the present scenario, I'm more inquisitive about Interior Designing.
What is your favorite book/magazine on design? How about your favorite site?
Architectural Digest, Archdaily & dwell are among my favorites to keep us updated with the current trend, new materials, and new design aspects on daily basis.
What is your Signature Style?
I am yet to define my signature style but most likely I love experimenting with straight lines & abstract patterns. Adding character, style & form through different materials keep me engrossed. It helps me keep the space minimal yet elegant.
What inspires you to thrive in this industry? Which piece of architecture inspires you the most?
I get inspired by a lot of things in life every day – nature, amazing architectural styles, new materials, new cafes & hotels, different cities & their culture, and the beautiful yet colorful art & culture of Rajasthan. my first & foremost inspiration is my mom who inspires me & encourages me every time of every day to create something new in every possible way I can in architecture as well as in life.
And the most important thing that keeps on thriving me with my work is the client's satisfaction & happiness after accepting the new space by trusting us throughout the process of design to execution of their dream space.
From your point of view, is design an art or a science?
It's a rare yet compelling combination where Art challenges technology for possibilities. As an outcome, they together create an efficient masterpiece for living.
If you had no limits (money, resources), what would you create?
As an Architecture student during my academic times, I was always intrigued by creating a "DREAM SPACE" with every possible resource & technology to make the space its best.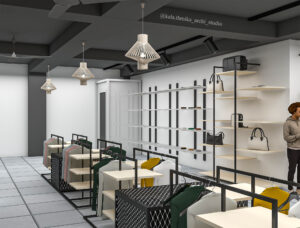 What advice do you have for young designers or architects reading this interview?
There is a beautiful quote by Zaha Hadid –
"I don't think that architecture is only about shelter… It should be able to excite you, to calm you, to make you think ".