Firm/Studio Name
RIGHT ARCHITECTS
How did you come up with the name of your studio?
Landing with this name for our studio as a result of an interesting process that involved our principal architects brainstorming and analysing the markets. In a developing country like ours, there has always been a gap that acts as a roadblock between prospective clients who require the services and the architects who can provide end to end services. After going over a bunch of options, we stumbled upon the realization that we need a name that can help our clients overcome the apprehensions they have when planning to build their homes or other projects, that can deliver the message straight that we offer the best of services and that indeed we are the RIGHT ARCHITECTS.
What determined your passion for design? Tell us about the moment when you decided this is the way to go.
Our Passion for Design is deep-rooted in our entire team and each of our team members. In fact, Passion is one of the most fundamental traits around which we have built our entire team. Our source of inspiration has been the fact that we realize the kind of magnificence that can be created when passionate minds work on something they truly love. We are allergic to design solutions that are mediocre or half attempts.
What kind of projects were you doing when you first started as a designer?
Our first few projects as designers included architecture & interior design of a residential builder floor project in Delhi, Interior designing of private residences in Delhi, designing of Office spaces in Gurugram. And these projects will always be the closest to our hearts.
What field of design are you most interested in?
As Architects, Architectural Design, Space Planning & Facade Designing are the things that get our hearts racing. We love to create something that is timeless and will stay relevant as it ages. Functionality in design is of high importance to us.
What is your favourite book/magazine on design? How about your favourite site?
Ever since the days when we were starting with our Architectural Degree, the one magazine that always had our attention was Architectural Digest. Other websites that we love to check out are Dezeen and ArchDaily.
What is your Signature Style?
We feel that as an Architect and a Designer, it is unfair to be bound by a particular style that steals us of our freedom to experiment and grow in the process. As also mentioned above we love to create designs that are timeless and relevant and serve their required functions.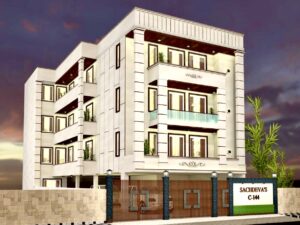 What inspires you to thrive in this industry? Which piece of architecture inspires you the most.
As practising Architects in a developing country like ours, the one thing that we realize on a daily basis is the amount the potential that is there and the need for young and passionate minds to shape and create the future. The obstacles such as lack of awareness in the general public about what Architects can do are some things that we try to change daily at the micro-level and these are the challenges that keep us going and keep us driven. We admire the works of some of our great Indian Architects such as B. V. Doshi and Raj Rewal.
From your point of view, is design an art or a science?
This is a question that has as many different answers as the number of people who answer this. In our opinion, Design is a work of Art & Creativity, Architecture on the Other hand is Pure Science.
If you had no limits (money, resources), what would you create?
In the times that we currently live in, the irreversible environmental impacts that we are causing to our planet, the need of the hour is to create cities/ structures that are and will be self-sustainable, have net-zero energy requirements and will have zero carbon footprints. Entire cities and countries working on these models at the micro and the macro level is something that we would like to create and be a part of if we ever had unlimited resources.
What advice do you have for young designers or architects reading this interview?
Our advice for all the young & talented designers and architects out there is to be observant of the world around them. We believe that the designers & architects of tomorrow should be able to visualize and design for tomorrow, which will only be possible if you observe the ever-changing world around you.