Firm/Studio Name
The Artisanal Story

Architect Name
Rishita Sheth Kothari

Project Name
Modern Living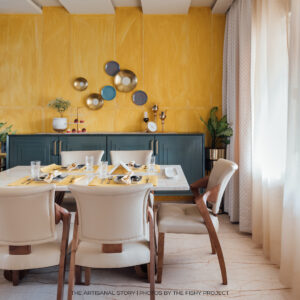 Why is this project special?
This project was our first complete demolition to reconstruction.
We took down every wall and restructured the layout to accommodate our design and client brief.

Tell us something about your project?
A home for a family of four that needed more space to comfortably accommodate their growing needs. Often heard the saying – a house is bought, a home is built. This was one such project – we were inclined to enable them to tell their story through their home.
Modern Living is an end to end solution for the user. From breaking to making and everything after, it was a complete overhaul.
A space to grow
A space that narrates their story. A space to create memories.

What was the biggest challenge you faced and how did you overcome it?
They hired us for our vision in colour, but, it was an uphill task to create each space with its own colour palette owing to the fact that there are very few colours on the spectrum that are gender-neutral and soothing enough to last a lifetime.
We created multiple vision boards, tried hands-on colours on-site with various samples, tried different techniques to create a different look within the same family.
Eventually, we had a different look for each space may it have the same palette but a different texture and feel.

What is the lesson you learned in this project that you would like to pass on to the next generation of architects?
Arguably this project taught us to design with the client rather than for the client.
It made us understand that the space is as good as it seems to its user. We need to take the user in tow to design a cohesive atmosphere and gain maximum results.
The clients can come up with various ideas that we as designers find too simple but they give the ideal solution.
Having said this, we do believe that we need to put our foot down at certain places and hold our ground for practicality and aesthetic reasons.